SALUTISSIMA — Brand Identity
✻
2023
Client name:

 Giulia Schirru
Giulia Schirru's
Salutissima
 branding and website design was our first, very exciting  
Rebranding Boutique
project that we have worked on together with
Lisa Hall
,
Vinita Salomé
&
Moran Greenwald
.
 Giulia, originally a biologist, has been working as a nutrition coach for the last 10 years and she was in need of rebranding her business to have a fresher logo and a website that serves better to her clients. 
Giulia having an Italian background herself, believes that the
Mediterranean diet
can contribute to a healthier and happier life and her ultimate goal is to make her clients more energized and see them flourish with their own nutritional potential. 
After the discovery call and the branding kick off meeting, it was very clear to us which direction to go with her logo design. She wanted to keep the original concept of having a tomato and a heart form but needed a more trendy and up-to-date look. We have managed to create with her a refined brand image, looking friendly and approachable to clients. 
Our inspiration for the concept were the colours of the Italian flag, where Giulia is from, (red and green), the Mediterranean diet containing veggies, herbs and fruits and the passion she has for her business and helping others. Tomato red, this super versatile colour represents both that passion and the healthy lifestyle she offers. It is also a very appetising colour.  On the other hand, green is the colour for freshness, renewal, balance and of course the colour of nature! 
In
Salutissima
branding, I tried to create
clean, rounded forms
and used a welcoming typeface to be able to give an inviting look for Giulia's clients to hop on a journey with her. Giulia was very pleased with the logo design, and afterwards we have also worked on her business cards and presentation templates creating a house style she can implement on her other graphic layouts.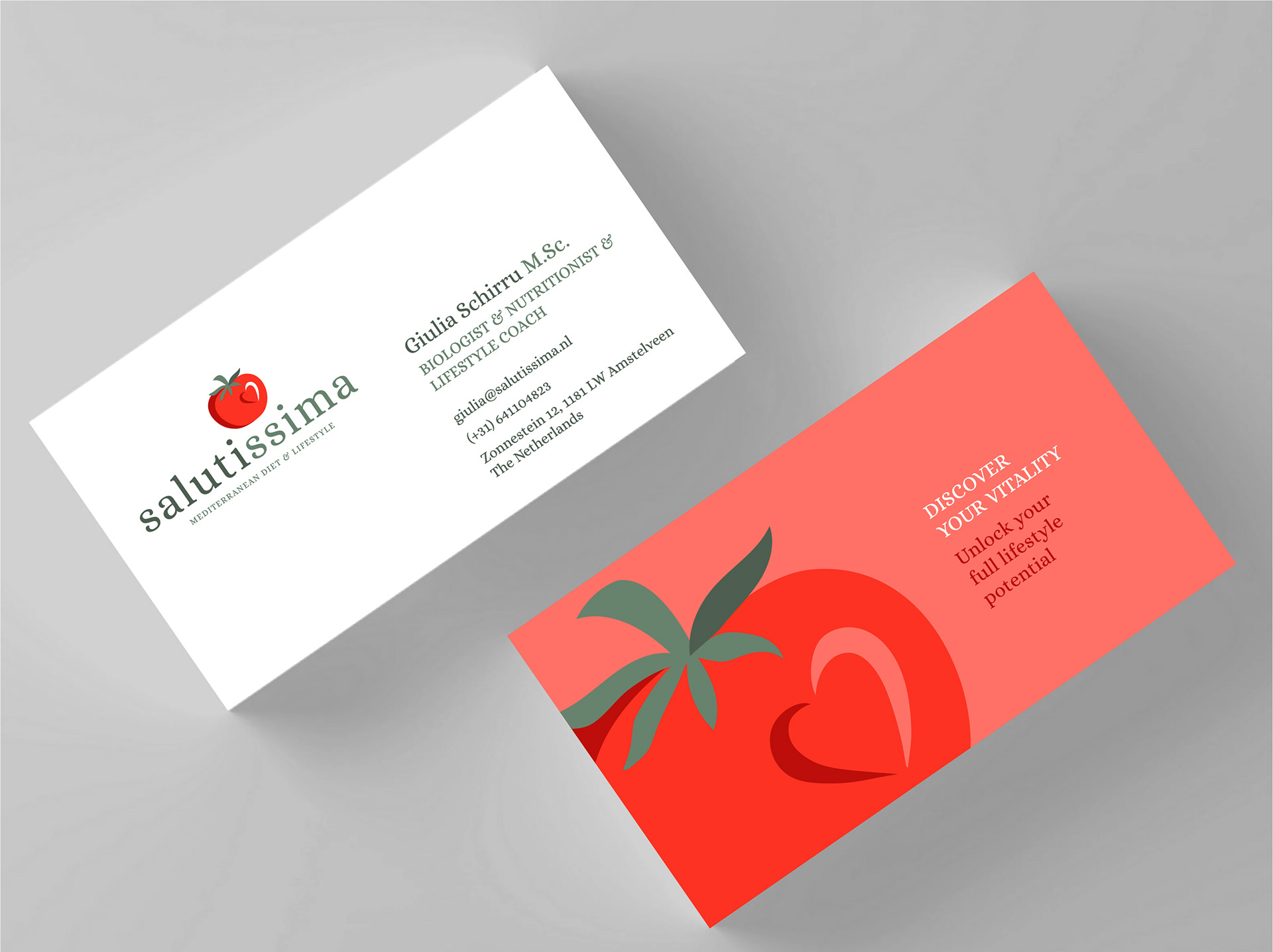 Initial sketches for the logo design
Lisa and Vinita, worked on the visual mood board and creative direction of Giulia's photoshoot and the website Lisa created contains full of life, unique images of Vinita, representing
Salutissima
in the best possible way!  Lisa got inspired from the forms and colours of the brand identity while she put the site together, paying attention to the consistency of the brand look throughout the pages. Thanks to Moran, this amazing website will be more visible and easy to be found by Giulia's potential clients. 
What a synergy, what a great team work. I am as happy as Giulia with the overall look of the brand that has been created by RBB ladies and the cooperation of our lovely client!
I highly recommend the Rebranding Boutique for exceptional website development. The team's professionalism, expertise, and ability to bring my vision to life were outstanding. From the punctuality, helpfulness and personalized website design of Lisa, to the breathtaking photography by Vinita, and the beautiful logo design by Cigdem, every detail was handled with excellence. The SEO expertise provided by Moran was very valuable in optimizing my website for maximum visibility. I was also impressed by the team's kindness and human touch throughout the collaboration. I highly recommend the Rebranding Boutique for their unique approach and impressive results.